After having broken her hand in the late spring, and then a summer full of travel, my wife Linda is finally back in full swing painting. She has three active paintings going at any one time (as oils take a while to dry after a coat of paint has been applied), and just finished two new paintings these past two weeks. And one of them is my new favorite.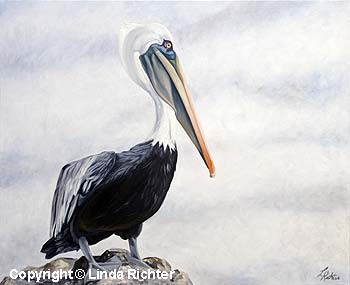 And that would be the one above, entitled Pelican Vigil. Breathtaking, especially when you see the original.
The other new painting is Trupial Brunch. Trupials are in the Oriole family of birds, and an amazing yellow orange in color across their necks and bellies. They also have this cool blue outline around their eyes. Linda captured them well in the painting (pictured below). She also did an excellent job with the cactus.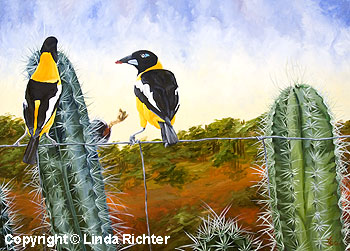 She has also converted much of our home into exhibit space for her works, so if you find yourself on Bonaire, call us at 717-4112 for a private showing. The plan is to build an extension onto our home (which on Bonaire is about a 6-9 month project – we're still waiting to get near-final plans from our architect) which will have a sizable (1000 square feet or so) dedicated exhibit area (and will expand my office with another 150 square feet of space as a result – that's much needed).
For more information on Linda's new paintings, take a look at the Linda Richter web site.